Welcome to our world

MUSIC SCHOOL IN FLORENCE - REHEARSAL ROOM - RECORDING STUDIO - SINGING AND INSTRUMENT COURSES

Our Association stands as an undisputed point of reference in the Florentine area for all those activities that revolve around music and its main actors:musicians. Since 1998 our structure has offered to all members well-equipped "Rehearsal Rooms" equipped with every type of instrumentation, care of acoustics, furniture and maintenance for each type of room a music school with professional teachers for each type of instrument such as courses and lessons of modern and Lyrical singing , courses and lessons of drums , courses and lessons of Electric Bass, electric , folk and classical guitar courses and lessons , modern and classical piano and electronic keyboards courses and lessons , Sax and clarinet courses and lessons , trumpet courses , Violin courses and lessons , accordion courses , percussion courses , DJ courses , Sound engineer phonics , and music software such as Cubase Logic and Nuendo, ableton Live,FL studio. Flexible schedules, promotions and competitive prices make "Medialab" a sure benchmark for this industry. In addition, since inception we are equipped with a fully digital resident studio for recordings ranging from demos, to full-fledged record productions. But if all this were not enough, since 2005 we have entered into an agreement with one of the most prestigious and historic music schools in Florence; Laboratorio Musicale Periferico. Our two associations, united by the same goals, have now almost become a single reality at the Rifredi headquarters in Via Don Giulio Facibeni 3/c near the areas of Careggi,Rifredi,Castello,Novoli,Statuto,Poggetto,Firenze Nova and Sesto Fiorentino,Piazza Dalmazia,CTO, Quartiere 5 and more generally North Florence. If you are interested in playing, learning, or just browsing, stop by and see us during office hours (3:30-8:00 p.m.) Monday through Friday we will give you a tour of our world that we hope will be yours as well. We would like to remind you that all our services are aimed exclusively at members, and that all contributions contribute to the keeping alive of the association itself to the payment of maintenance and all the many costs that this type of activity entails.So any contribution of yours either financial or of personal help to social activities will be greatly appreciated .We therefore look forward to seeing you in large numbers.
President Fulvio Vasarri
Our Philosophy

Medialab's main interest since its opening has been to be able to offer its members a series of highly qualified courses and activities
All inclusive rehearsal rooms with lots of equipment

Low-priced digital recording studio

Music school with professional teachers and music lessons built on the student

Multimedia courses such as audio video technician and software (cubase , logic , Protools)

Photography and studio courses with professional equipment

Dubbing , Speaker & diction courses


Basic computer courses and specific software ( Office package )




Services
There are many services that Medialab provides to its members parallel to the classic courses and activities we offer. In collaboration with Mediarecords, which also takes care of the technical part of the Medialab association, we can provide to all our members a service of Demo Recording and Cd on Cubase platform, instrument rental and Backline for every amateur and professional need . In addition always new ideas will be proposed to our friends such as the service Database of musicians that allows you to search and / or offer availability to play an instrument within bands in formation ....Or for all lovers of photography who follow our courses it is possible to rent the studio at extremely contuenuti costs..
Follow us!!!

scuola di musica moderna E classica a firenze
MODERN SINGING , ROCK , POP , JAZZ , LYRIC

ACCORDION

PERCUSSION

ENGLISH DICTION COURSE FOR SINGERS
MEDIALAB SCUOLA DI MUSICA A FIRENZE, SALE PROVA , STUDIO DI REGITRAZIONE
Nuovi corsi di doppiaggio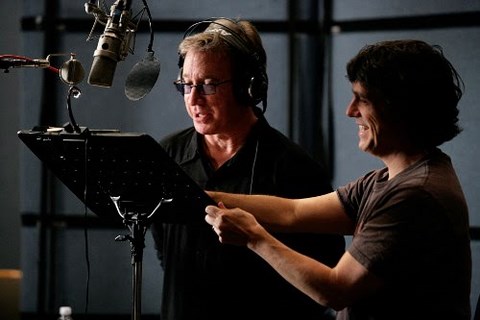 Vieni a provare dal vivo gratuitamente la bellezza del doppiaggio professionale , l'unico corso che raccoglie in sè numerosi aspetti che vanno dalla respirazione , all'educazione vocale e dizione ,alla sincronizzazione occhio mente organo fonatorio, al lavorare in team e alla ricerca della tua voce migliore specchio di sicurezza e lavoro su se stessì. Siamo certi che ti innamorerai di questa proposta che il docente Paolo Spennato da numerosi anni propone presso i nostri studi .Affrettati a prenotare la tua prova gratuita!



Presentazione Medialab alla radio