Welcome to our world
Our Association is an undisputed reference point in the Florentine area for all those activities that revolve around music and its main actors: musicians. Since 1998 our structure has offered all members "Test rooms" fully equipped with all types of instrumentation, care of the acoustics, furnishings and maintenance for each type of room. Flexible hours, promotions and competitive prices make "Medialab" a sure comparison for this sector. Furthermore, from birth we have had a fully digital resident studio for recordings ranging from demos to actual record productions. But if all this were not enough, since 2005 we have made an agreement with one of the most prestigious and historical music schools in Florence; the Peripheral Music Laboratory. Our two associations, united by the same objectives, have now almost become a single reality at the Rifredi headquarters in via Don Giulio Facibeni 3 / c. If you are interested in playing, learning, or simply browsing, come and visit us during secretarial hours (15: 30-20: 00) from Monday to Friday we will take you on a tour of our world that we hope will be yours too. We remind you that all our services are aimed exclusively at members and that all contributions contribute to keeping the association alive during the payment of maintenance and to all the numerous costs that this type of activity entails. staff to social activities will be very welcome. We therefore expect many of you. The President Fulvio Vasarri

NUOVA GRANDE INIZIATIVA
Per chuque sia regolarmente tesserato per l'anno in corso 22/23 presso la nostra associazione sia come semplice fruitore delle sale prova , o allievo presso uno dei nostri tanti corsi, potrà accedere ai numerosissimi contenuti di una delle più belle piattaforme di musica on line attualmente in commercio con uno sconto del 10%.Inoltre con l'accademia stiamo lavorando per creare dei percorsi didattici in presenza che riguarderanno sia la musica di insieme vista dal punto di vista della registrazione , che un percorso di home recording! Informatevi!

Our Philosophy
Since its opening, Medialab has had the main interest of being able to offer its members a series of courses and activities
All inclusive test rooms
Low-cost digital recording studio
Music school with professional teachers
multimedia courses as audio video technician and software (cubase, logic, Protools)
Photography courses and pose studio with professional equipment
Dubbing, Speaker & Diction courses
Basic computer courses and specific software (Office package)



Services
There are many services that Medialab provides to its members in parallel with the classic courses and activities that we offer. In collaboration with Mediarecords which also takes care of the technical part of the Medialab association, we can provide all our associates with an instrument and backline rental service for every amateur and professional need. In addition, new ideas will always be proposed to our friends such as the Database of musicians service that allows you to search and / or offer availability to play an instrument within bands in formation .... Or for all lovers of photography who follow our courses you can rent the pose studio at extremely low costs ..
Follow us !!


scuola di musica moderna E classica a firenze
CANTO MODERNO , ROCK , POP , JAZZ , LIRICO

FISARMONICA

PERCUSSIONI

CORSO DI DIZIONE INGLESE PER CANTANTI
MEDIALAB SCUOLA DI MUSICA A FIRENZE, SALE PROVA , STUDIO DI REGITRAZIONE
New Dubbing Courses
Departing In October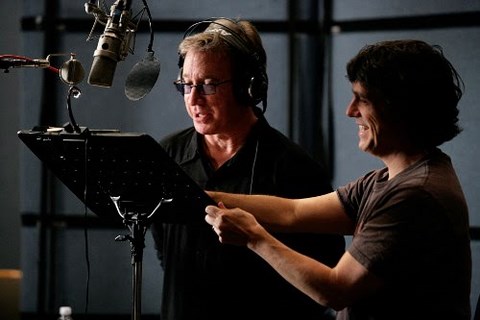 Come and experience the beauty of professional dubbing for free, the only course that brings together numerous aspects ranging from breathing, vocal and diction education, eye-to-eye synchronization, phonatory organ, team work and research of your voice better safety mirror and work on itself. We are sure that you will fall in love with this proposal that the teacher Paolo Spennato has been offering for many years at our studios. Hurry up and book your free trial !!




Presentazione Medialab alla radio